For additional sound clips, visit Hiromi's DB Fan website. Click on song titles to hear the tracks.
SKETCH SAMPLES | SCHITZOID | PARADISE CITY

JOYLAND > Listen to 3 entire tracks at Dawayne's MySpace page

Spread the joy HERE!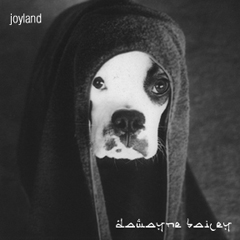 JOYLAND is the new CD by Dawayne Bailey. The term "joyland" covers a myriad of meanings. DB has always felt his music has never been of the "perky variety" and chose Joyland as a term of irony, sarcasm and humor.

The cover speaks for itself as Miles, the white boxer, sits in solemn seriousness - sporting his monk-like shroud in heavy ponder mode....and destiny...of a snack.

Joyland is also a real place. An old school amusement park that resides in Wichita, Kansas. It was where, as a child, DB first rode his first rollercoaster. Since then, he has developed a love/hate relationship with extreme coasters and decided to go back to a simpler time and place where it all began at 2801 S. Hillside Street.

Joyland also became a metaphor for the set of songs contained within. A place on the outside that offers happiness, thrills and joy, but within the "rides" i.e. "songs" reveal other attitudes and emotions as well. A diverse trip of moods and styles.

The set begins and ends with "Joyland In Trance" and "Joyland Out Trance" with short interludes in between to connect the dots....or rather...the songs.

There are dedications to heroes and one that is dedicated to a person who...ummm...not so much. That itty bitty ditty is called "The Ashlee Simpson Variations", which is based on her hit "Pieces Of Me". DB expresses this by playing and recording 3 separate tracks of piano, based on the variations of a theme.

Hero dedications are to DB's children Hilary & Blair (11), Rona M. McDonald (2), Jimi Hendrix, Stevie Ray Vaughan, Carlos Santana (3), an intoxicated E.T. (5), Kevin Gilbert (6), Wes Montgomery (9), Eddie Harris (10), Andy Summers-Sting-Stewart Copeland-The Police (14).

Rona had a major hand in the creation of Joyland by singing, playing drums, production and engineering, graphics design and much more. In honor of her father, Albert McDonald, DB and Rona recorded the song he wrote in 1969 called "Please Don't Go". This song is all about "that Sixties vibe". We love and miss you, Al.

Peter Wolf produced the (still) unreleased Chicago recording Stone Of Sisyphus and offered his services on "My Miracle". Together, he and DB play keyboards on this Todd Rundgren-inspired track.

There's a little bit of Joyland in all of us and we hope you enjoy the ride.
Tracklist:
1 Joyland - In Trance
2 My Miracle - featuring Peter Wolf (producer of Chicago's Stone Of Sisyphus project)
3 Stevie's Ray Shines On Jimi's Carless Antenna
4 Her Last Request
5 E.T. Sauced
6 The Sad Parade
7 Private Parts 2006
8 Please Don't Go
9 Wes Is More
10 Freedom Jazz Dance
11 Man In The Moon
12 Fresh Of Breath Air
13 Daily News Blues
14 Andy's Sting Stew
15 Pharm Phunk
16 Kiss Of The Kath Klowns
17 The Ashlee Variations
18 Joyland - Out Trance



SKETCH > SAMPLES
Dear brave listener,
sketch is a collection of 2 & 1/2 hours (and 4 minutes) of song ideas & assorted oddlings. Some complete … many not – "sketches" as it were – araw glimpse into this cauldron of word & music.
Beware of jagged endings, abrupt transitions, sonic dullness, mumbled verse unyielding dumb-drum machinery & various annoying audio thorns that accompany these humble pods of creation. The tradeoff of pristine audio sheen is (hopefully) the content within – honesty of word & music vision inspired.
Be advised to listen with a good (if not great) set of eargoggleswhenever possible. Trust us. Maybe even at night under low light in a quiet room. This is not perky ear candy for beach raves & block parties.(With exception to 'Amy & Hilary', a birthday gift to daughter Hilary).
Be sure to turn off any "bass boost" on your CD player. This will only add distortion to the existing distorted & raw state of "sketch".
Lyrics can be found HERE
Enjoy the mess … and thanks for listening, db
SOUND SAMPLES
Beautiful Ruins
Los Angeles
The Living Room of Me
Chief Old Fox
Day Tripper 1
Easier Than Breathing 2
Hyena Weeps
My Life



SCHITZOID | ROBERT LAMM
Demo with DB and demo from Robert's website with DB as a co-writer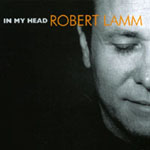 Robert Lamm is re-releasing his 1999 solo album "In My Head" under the new name "Too Many Voices". One of the bonus cuts is called "Schitzoid" written by Lamm, Parthenon Huxley, and Dawayne Bailey. The original title was "Shut Yer Mouth" in 1993 and the music was written by Lamm and Bailey in 1988. Lamm has taken Bailey's name off of the copyright, yet Bailey's music remains in the version to be released on "Too Many Voices". You can hear the two versions for yourself...the demo - which features Lamm and Bailey only with no vocals and the version to be released. Lamm wrote the all of the music except for the B section written by Bailey - which is the bridge between the verse and the chorus. Parthenon wrote all of the lyrics. Hear it for yourself...click on the links below to hear both versions. You be the judge...legal copyrights are now pending.
D.Bailey and R.Lamm - SCHITZOID demo
R.Lamm - SCHITZOID from "Too Many Voices"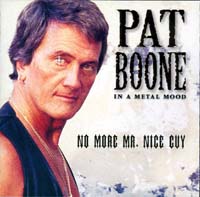 In 1986, Jeff Weber produced Dawayne Bailey's band, Private Parts CD called "Dancing the Marmara". Ten years later, in 1996, Jeff Weber produced Pat Boone's heavy metal parody CD called "In A Metal Mood". Pat Boone covered the Gun's N' Roses song "Paradise City" - guitarist, Slash, couldn't make the session so Jeff called on DB to play on the track. This is the song sample from that CD featuring DB on the guitar solo.

Arranged by Don Menza

Pat Boone - Lead Vocals
Greg Bissonette - Drums
Michael Melvoin - Piano
Tom Scott, Don Menza, Pete Christlieb, Plaz Johnson,
Joel Peskin - Woodwinds
Andy Simpkins - Bass
Dawayne Bailey - Guitar
Chuck Findley, Chris Tedesco, Steve Madaio, Charlie Davis - Trumpet
Dick Hyde, Bruce Otto, Dana Hughs, Lew McCreary - Trombone
Dave Siebels - Organ
Clydene Jackson Edwards, Mona Lisa Young, Myrna Matthews, Maxi Anderson, Yvonne Williams, Carmen Twille, Merry Clayton - Vocals